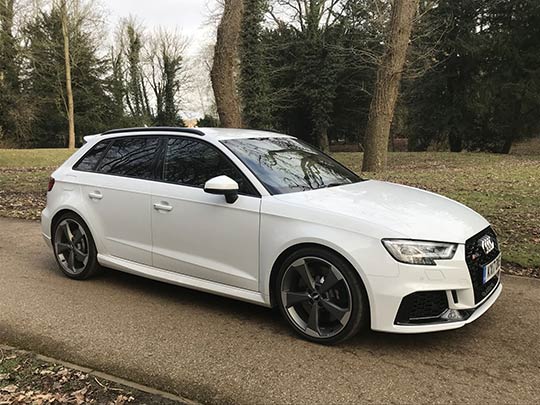 We Brits love hot hatches, which have been a beacon of sportiness on the motoring scene for over 40 years. Here's one of the newest and most fun.
Compact practicality combined with hot performance. That is what a so-called 'hot hatch' delivers. The genre dates back to the 1970s when the first Volkswagen Golf GTI arrived and quickly grabbed the hearts of keen drivers for whom a two-seater sports car was just too impractical.
VW's pioneering GTI spawned a new generation of me-too models in the 1980s, including Ford's Fiesta XR2 and the much-loved Peugeot 205 GTI, which has latterly been acclaimed as 'the greatest ever hot hatch'.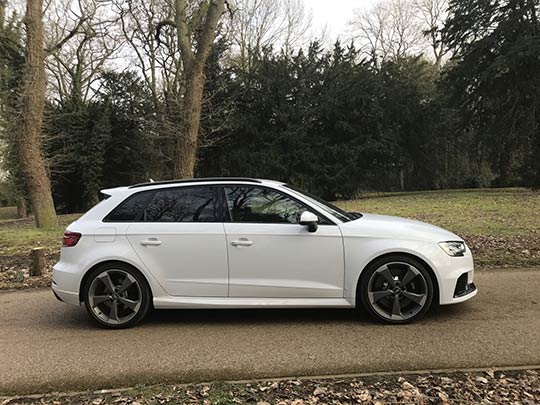 Hot hatches have endured into economy-conscious post-millennial times, with such as the latterday Mini Cooper S, Vauxhall Astra VXR, Seat Leon Cupra and Honda Civic Type R.  Three years ago Audi brought out a 'warm hatch' S3 version of its popular A3. Now here is Audi's sizzling hot hatch RS3 Sportback.
Do you like the look of the new Audi RS3? Are you thinking, 'it's time to sell my car'? Get your free car valuation today and treat yourself to a new hot hatch.
Badge chic
Why RS? It derives from the German term RennSport, meaning racing sport. It's a chic badge that tells you this motor is mighty quick off the mark. It may look unostentatious – our snowy white test car is certainly visually shy about how rapid it is – but the figures tell you otherwise.
By any standards, a whisker over four seconds to sprint up to the magic 100 kph – 62 mph – is a very sporty motor. The top speed at 155 mph is academic on 70-limited UK roads, but there's a naughty delight in knowing just how big a margin you have in hand while cruising on a motorway.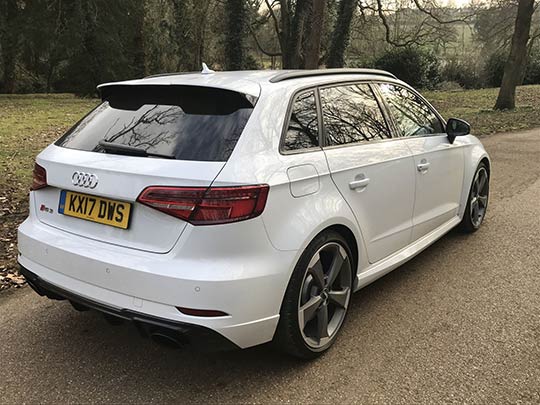 The rest of its figures are impressive too, with a whopping 394 bhp power output and 354 lb ft of torque on tap from the 2.5 litre, five-cylinder, twin-cam, turbocharged petrol engine. It has performance-orientated four-wheel-drive. It drinks superior 98 octane fuel to keep it on song, and consumes it by the gallon every 30 miles or so.
In the driving seat
From the inside, the RS3 looks a bit more special than its largely understated exterior. RS badged seats that hug you on the bends, a sportily flat-bottomed steering wheel and top-spec detailing make it a pleasingly snug and businesslike cabin to be in for some spirited driving.
From the moment you first squeeze the accelerator, Audi's hot hatch darts away with a lightning response. Having the quattro 4×4 system means that it puts the power down with excellent sure-footedness. It grabs the bends and despatches them with taut enthusiasm. It's a really fun drive.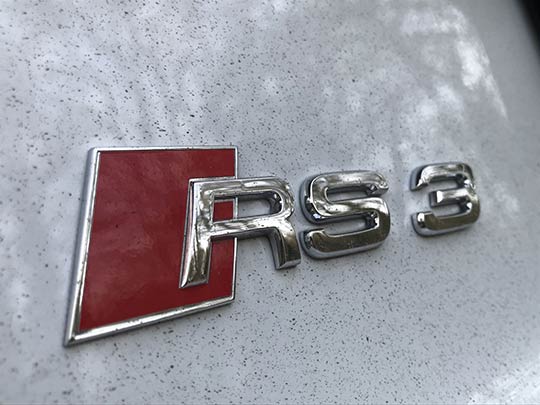 It is pleasingly un-temperamental though. You can amble along a country lane behind a slower vehicle, confident in having all that vast power on tap for a rapid overtake when the road opens up ahead. That's the joy of driving a well-engineered hot hatch, and this one certainly is.
Ouch bottom line
Unsurprisingly, all this performance in a prestige car – albeit a relatively compact one, at around 4.3 metres long – comes at a price. It's a high one. The thick end of £45k is a bit wince-making.
It does come quite well equipped for the money though, with Audi's excellent digital cockpit instrument display with its 12-inch widescreen, standard satnav with Google mapping, seven-speed auto transmission, Nappa leather seats, wireless phone charging and a terrific Bose sound system.
What makes a hot hatch desirable is as much its practicality as its performance, and having five doors is definitely to the RS3's advantage. So is a decent sized boot. It's 335 litres with all the seats in place and stretches to 1,175 litres when the back ones are folded. That's a lot of space to take a load of stuff on a very rapid trip.
Audi RS3 Stats Review
Model tested:  Sportback 2.5 TFSI quattro S tronic
Top speed:  155 mph
0-62 mph: 4.1 secs
Economy:  34.0 mpg
CO2:  189 g/km
Price:   £44,725
Images: Sue Baker