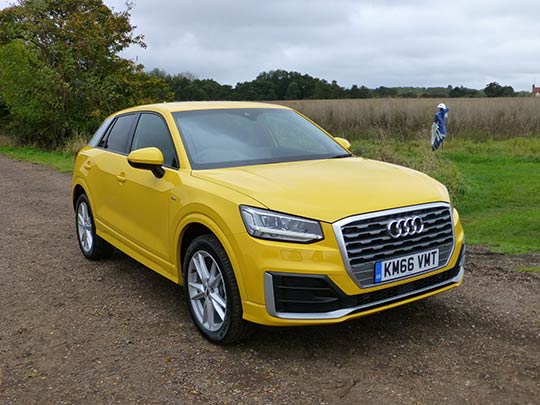 The relentless march of new Audi models goes on, with the range now numbering some 30 models. Here's the newest addition to the lineup.
Still they keep coming. Here's another one. I could be talking about the tsunami of new metal pouring into the showrooms at Audi dealers, but it's just as true of crossover-SUVs.
Like so many of them, this one has slightly pumped-up 4×4 looks, mostly without the hardware, and hatchback practicality in a chunkily cute package. It's Audi's new Q2, the smallest of the Bavarian car maker's crossover Q models, a baby brother for the Q3, Q5 and the big Q7 seven-seater.
img loading="lazy" src="https://cms.webuyanycar.com/globalassets/images/car-magazine/2016-11-Audi-Q2.jpg" alt='Audi Q2 Review, Audi Q2 Side View' />
Looks-wise, it has quite a bit in common with the popular Audi A1 hatchback. It joins a rapidly mushrooming car crossover club, but Audi would like us to see it as a trend-setter, the first 'compact premium SUV' pioneering a select new corner of the car market. Yes, well, maybe.
Classy baby
Setting manufacturer's hype aside, the Q2 does look like rather a classy little pumped-up supermini. It is the smallest model of its kind with a small footprint on the road and a posh badge on the nose. Size-wise, it's about the same as a Renault Captur or Nissan Juke.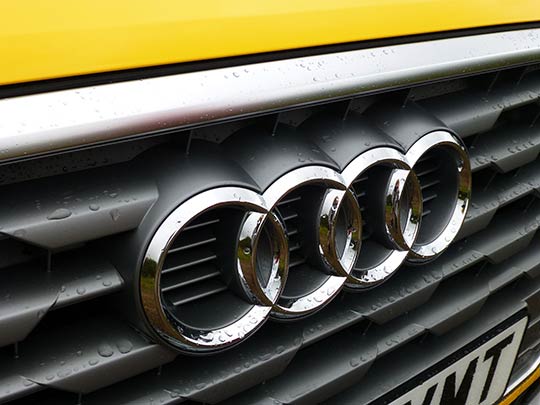 It's just under 4.2 metres long, and 1.8 metres wide not counting the mirrors, with a height of 1.5 metres, so about 10 cm taller than an Audi A1. Size-wise, it sits between an Audi A1 and Q3. It's billed as a five-seater, but it would be a bit of a tight squeeze back there for three chunky adults in the back. It's practical transport for four to travel in reasonable comfort on a long run though.
The boot's not bad either, at a nice square-shaped, flat-floored 405 litres, plus the usual hatchback/crossover option of folding down the back seat row to stretch the cargo capacity through into the cabin, with a useful maximum of 1,050 litres.
Well-mannered minor
It's a nice surprise that the Q2 drives really well. That's not invariably the case with crossover models, some of which major on practicality but feel a bit indifferent behind the wheel. This one is a bit more of what us petrolheads like to call a driver's car.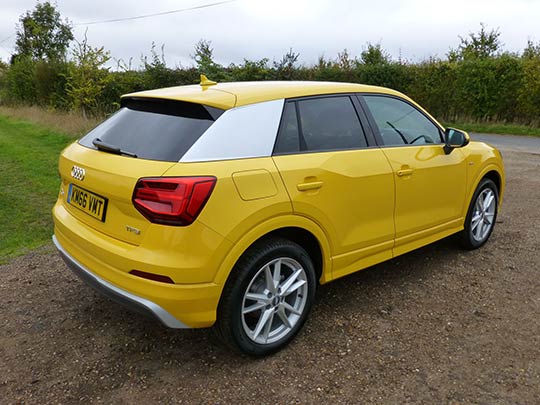 Body control is good on the bends, the handling feels keep grippy and the steering communicates pretty well what's going on at the wheels. Ride comfort is quite decent too, although less so on versions with the bigger wheel options. Larger wheels, 18-inches or more, are nice aesthetically for the way they fill up the wheel arches, but the ride suffers.
The Q2's star turn is its cabin, which is classily upmarket and has contrasting red trim inserts in some versions. But my favourite on the launch drive was a smart wavy pinstripe design across the dash. Audi's acclaimed 'virtual cockpit', that lets you switch between instrument displays and view the satnav map through the steering wheel, is available on the up-scale models.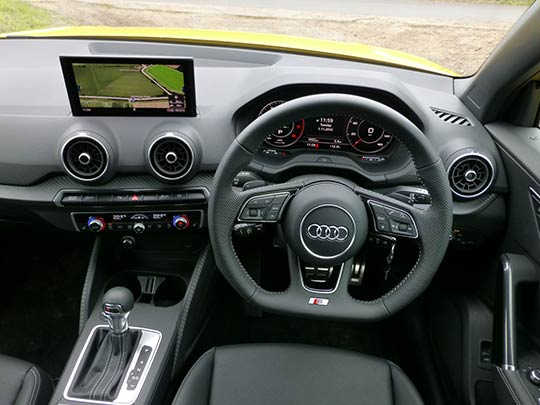 Under-bonnet options
The Q2 comes with a choice of petrol and diesel engines, initially just a 1.4 TFSI petrol, and 1.6 or two-litre TDI. Prices start from £22,380, and go up to £30,610. From next year there will be additional models to sandwich the range, with a one-litre petrol Q2 that will start from £20,230, and a range-topping two-litre petrol with auto transmission and four-wheel-drive priced somewhere above £30,000.
img loading="lazy" src="https://cms.webuyanycar.com/globalassets/images/car-magazine/2016-11-Audi-Q2-8.jpg" alt='Audi Q2 Review, Audi Q2 Front View' />
The gearbox choices are six-speed manual or seven-speed S tronic auto, and trim levels are SE, Sport and S line. If you lust after our test car's vivid Vegas Yellow paintwork, it's an option that will sting you an extra £550. Not for budget-conscious shrinking violets then …
Audi Q2 Stats Review
Model tested: Q2 TFSI 150 S line S tronic
Top speed:  131 mph
0-62 mph:  8.5 secs
Economy:  54.3 mpg
CO2:  119 g/km
Price:  £27,730
Looking to upgrade your current Audi? You can get a free and instant online car valuation by clicking the reg box below or visit our sell your Audi page for more information on how to sell with webuyanycar.
All Images: Sue Baker