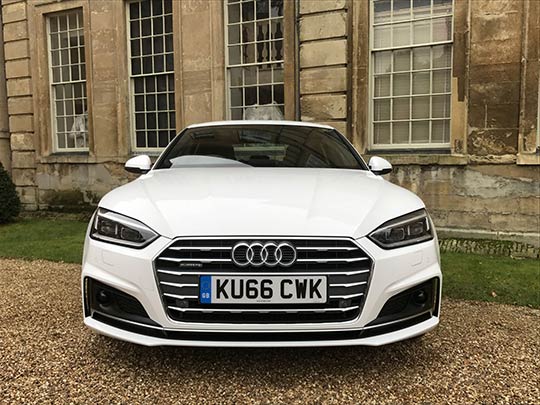 Audi has revamped the A5 Sportback in this newly-arrived second generation model, but the formula of stylish practicality is unchanged. 
Svelte looks and practical design are what the Audi A5 Sportback has always been all about. In appearance, it's a largish and quite luxurious coupe. Then you look at the back of it, and there is a tailgate where you might expect to see a boot-lid.
That has been behind the car's success since the launch of the original model back in 2009. Buyers have espoused its stylish practicality, liking its sensible five-door, five-seat, hatchback usefulness that is partly in disguise, clothed as it is in coupe-esque attire.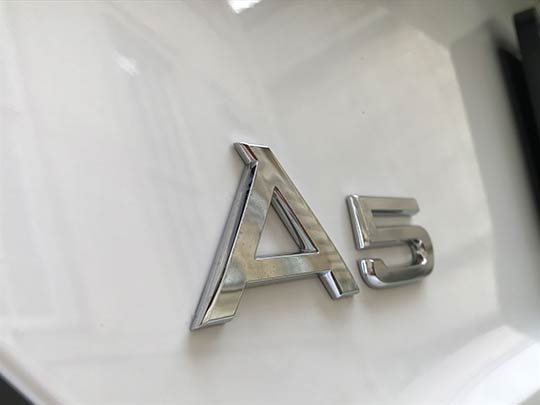 Now the second-generation A5 Sportback has just been launched, with the same formula but put on a diet, energised and with its fuel thirst modestly reduced.
Suited and booted
Inside its smart suit of clothes, the Sportback's hidden asset has always been its very decently-sized boot. Coupes are not renowned for the generosity of their luggage capacity, but what's particularly impressive about this car, with its hatchback configuration, is how much it can accommodate.
As well as having room for five adults in the comfort of an executive-style cabin, it can also carry a reasonable quantity of their luggage. The boot space is a rival-beating 480 litres, which is 15 litres more than the previous model.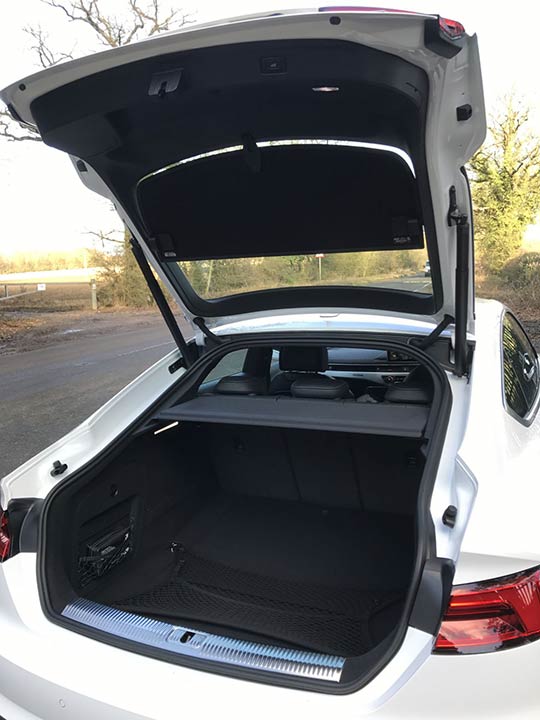 When the rear seats are folded forward, this can be increased to a maximum of 1,300 litres (up by 320 litres), which is also better than any other comparable car. It's handy too that the back seats are triple-split and can be folded individually, rather than the 60/40 split that is a more usual provision. It's just a shame that the folded seats don't quite go completely flat.
Less weight, more room
Compared with the first generation A5 Sportback, this one is fractionally longer by about one cm, but slightly narrower and lower. Weight has been pared off to make most versions around 85 kg lighter than before, which is about the same as one person's bodyweight.
There's more legroom in the back seats, and pretty decent headroom all round. The cabin design is typical of Audi: modern, tasteful and beautifully crafted. Our test car has the 'Virtual Cockpit' digital display that lets you optionally switch between instrument dials, from a large pair that occupy most of the space directly ahead through the steering wheel, to a smaller set with more space between for other information.
In the centre of the dash is a 12-inch LCD screen to view satnav mapping, which can be switched to a Google Earth view of what's around and ahead of the car. Head-up display is available in some versions.
Sharper driving manners
Audi describes this new-generation A5 Sportback as 'all-new', and a lot of the attention has been paid to lowering fuel consumption and CO2, as well as to sharpening the driving experience. You'd need to drive the previous car to know the difference, but there discernably is one.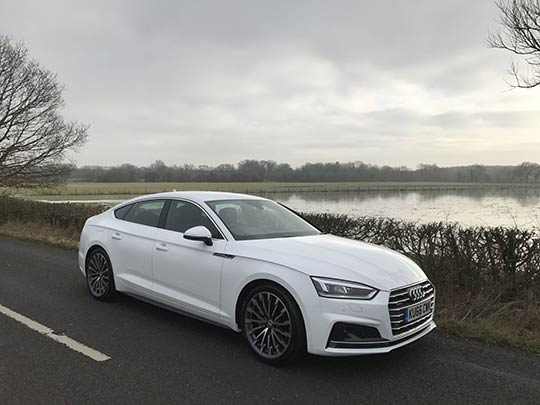 This two-litre TDI is expected to be one of the best sellers, and it delivers strong performance with plenty of mid-range punch. On a bendy road, the car is taut and tidy, grippy on the corners and calmly confident on the straights.
Audi's message is that the car feels sportier, and while that's true to a certain extent, it still doesn't have quite the same driver smile-inducement as a rival BMW 4-Series. There's a firmness about the suspension, too, in this S line version that some will find a bit jarring, and it's worth noting that lower-spec models have more compliant springing for a more cushioning ride.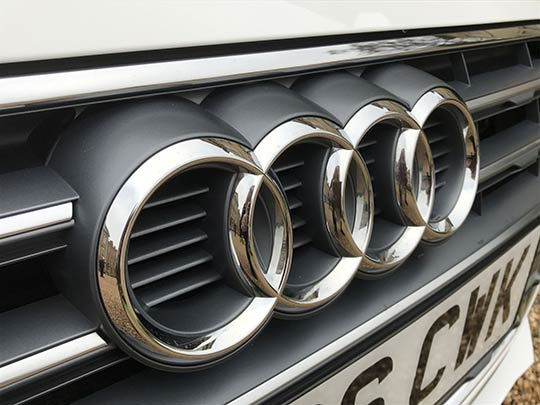 Kit and cost
A powered tailgate is a convenience boon on a car like this, especially as that very big fifth door would be heavy to lift without it, and all versions of the new A5 Sportback have this as standard kit. LED headlamps, daytime running lights, three-zone climate control, cruise control with speed limiter, and a 10-speaker sound system are also standard.
Safety kit includes pre-sense city braking, multi-collision brake assist and parking assistance. Pricing starts from around £38,000 for a two-litre diesel quattro Sport, and the range-topper S5 with a three-litre V6 petrol engine and quattro all-wheel-drive.
Audi is riding on a tsunami of new products, of which this is just the latest. There are now 49 models in the Bavarian carmaker's range, up from just 17 variants at the turn of the millennium. There's also more to come, with these due to join the range over the year ahead: a new Q5, A5 Cabriolet, A8, A6 and A7 queueing up in the model pipeline.
Audi A5 Sportback Stats Review
Model tested: 2.0 TDI quattro S line S tronic
Top speed:  146 mph
0-62 mph:  7.4 secs
Economy:  61.4 mpg
CO2:  121 g/km
Price:  £38,005
If you are looking to upgrade your existing Audi to this stunning A5 Sportback model, you can sell your current Audi here or simply click the reg box below to get your free online valuation in under 30 seconds!
Images: Sue Baker