Spending five days and 900 miles in the company of a car is a good way to get to know it, and that was my experience with an Audi A3 saloon.
It was a Quattro all-wheel-drive 2.0 diesel which with a six-speed, self-shifting S-tronic transmission with steering wheel paddle over-rides so you could choose what gear you wanted and when.
For reasons that are too complicated, and possibly too boring to go into, I was in the middle of a marathon interviewing session for a magazine's awards and had to visit interviewees in Farnborough, Portsmouth, Pontypridd, Bridgewater, Salisbury, then Tetbury in
Gloucestershire, after which I would drive home to Kent.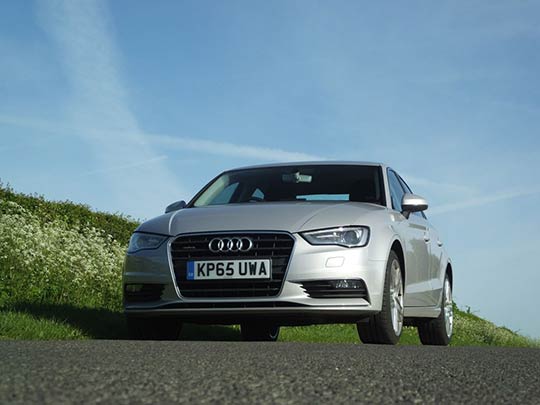 Something compact, swift, comfortable, relaxed and economical on motorways that changed its own gears struck me as an ideal travelling companion, and the A3 certainly fitted the bill.
This is the third generation of the A3. The first one was a three-door hatch, version two offered three and five doors (and a convertible), and the latest example can be chosen with these options or as a four-door saloon, essentially filling the market gap left by the A4, which has grown bigger and plusher with each succeeding generation.
The car I drove had the evolutionary styling that Audi has applied to its saloons since the 1980s, with rounded edges, and a glasshouse with a third slide light window behind the rear doors. The end result is handsome, low key and less flashy than some of Audi's bigger offerings, which I guess is why I liked it.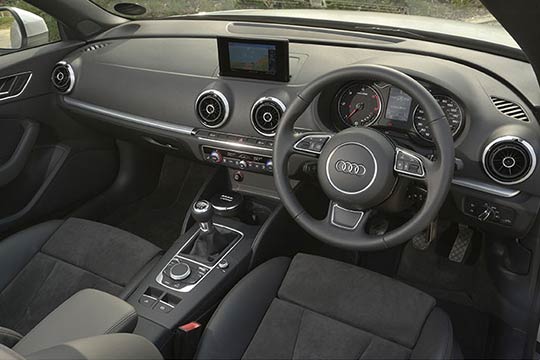 Inside everything was tasteful and well thought out, again not resorting to an excess of buttons and lights. It had a discreetly classy, German look that people who buy these cars like. The nearest thing to a design flourish could be found in the big round dash air vents, which could be pushed, pulled and moved around in unusual ways.
The car will comfortably seat four, five at a pinch, but taller occupants might wish for a little more headroom in the back. Otherwise, there was nothing to complain about, and the cabin was a nice place to be.
Thick rear pillars were the source of blind spots, which made reversing into parking spaces a neck-craning business, the car I borrowed didn't have a reversing camera, which would have helped, and was it the A3's bulging flanks that caused me to misjudge a kerb and scrape its passenger side alloy wheels against this, or just my incompetence? You decide.
The car handled really tidily, sticking to its line in corners with real aplomb, and the steering was light and accurate, but I found the overall driving experience slightly disengaging, which is an observation rather than a criticism, as most buyers won't give a hoot.
With big, low profile tyres and firm suspension, the A3 had a very taut, very German ride, which seems to be in vogue these days, and is often described as 'sporting,' but for an old git like me felt slightly jiggly.
There was some tyre roar from those big bits of rubber, but otherwise, the A3 was both quiet and quick, offering real punch when accelerating, and it proved to be a low revving, relaxed motorway companion. This is a drive-it-for-hours-without-feeling-tired kind of car.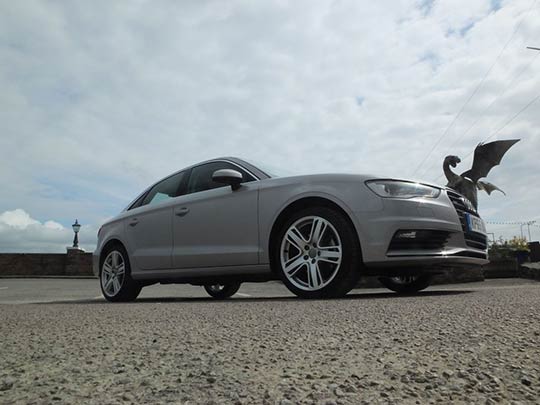 The S-tronic transmission was swift and effective occasionally it came in with a bit of a surge when moving off from rest.
Overall, this car is a typical Audi. Good looking, discreet, well screwed together and nice to use. In fact, it's a nice car, even with a pair of cheese grated alloy wheels.
Audi A3 saloon: Stats Review
Model tested: A3 Saloon 2.0 TDI Quattro Sport Navigation 184PS S tronic
Top Speed: 147mph
0-62mph: 6.9sec
Economy: 40.9mpg
CO2: 127g/km
Price: £35,440.
Looking to upgrade your current Audi? You can get a free and instant online car valuation by clicking the reg box below or visit our sell your Audi page for more information on how to sell with webuyanycar.