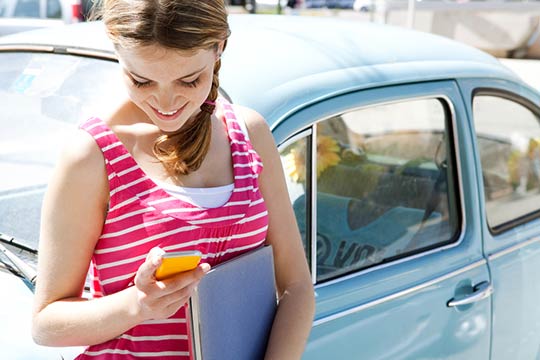 Driving tests are stressful –  and as if getting ready for the practical test wasn't bad enough, you first have to get a score of at least 43 out of 50 to make it through your theory test.
The good news is there are some handy apps out there to help you get ready for it, and here are five of the best …
 The OFFICIAL DVSA Theory Test Kit for Car Drivers (£1.49 Apple)
This app has been written by the Driver and Vehicle Standards Agency (DVSA) – the same people who write the real test – and so should be as close to the real thing as you can get.
The app covers all 14 topics so you can fully understand the theory test, it also sets plenty of practice questions so you can see how well you are doing. It's also the only app that includes every official DVSA car theory test revision question and answer, as well as case studies and 10 interactive official DVSA practice hazard perception video clips.
BSM Theory Test (£1.99 Apple)
BSM is one of the UK's biggest driving schools and so you can trust its app will help you prepare for the theory test as well as its instructors help you prepare for the practical test. And although a free version of the app is available, it's best you go for the full version as this gives you the option of seeing all of the 970 questions you could be asked.
The only real downside to this app is it doesn't offer a hazard perception test.
Driving Theory Test & Hazard Perception (£2.49 – Android)
This two-in-one app combines both theory test revision questions and answers and a hazard perception test, the only drawback is that it doesn't include case study questions which now form part of the theory test.
It does, however, feature all the latest DVSA (it says DSA in the blurb, that was the old name for the DVSA so don't worry about that) revision questions and answers, including knowledge and understanding information and 33 hazard perception videos with explanations.
Driving Test Success – Theory Test 2014 (£1.99 Android)
The official DVSA app doesn't appear to be available for Android users, but this appears to be the next best thing as it uses all of the official revision questions set by the DVSA. This app not only covers all the questions you could be asked on your test, including interactive case studies, it offers instant feedback and an explanation of correct answers to help you understand the theory behind the rules of the road.
The only real downside is that it doesn't come with a hazard perception section so you'll have to pay extra for that, speaking of which…
Driving Test Success – Hazard Perception CGI Edition (£1.99 Apple/£1.49 Android)
If you opt for the either the BSM or the Driving Test Success driving test theory app, you'll need a separate app that covers hazard perception, and this one from Driving Test Success fits the bill nicely. It includes 14 interactive video clips that simulate those on the official DVSA test.
Have we missed any apps you've found useful? Leave a comment below!