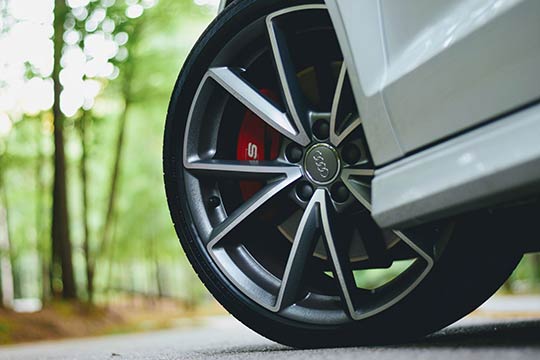 We all lead busy lives and car maintenance can seem like the last thing you would want to do after a long day of school runs, working and commuting. At webuyanycar we believe that every second counts, that's why we've put together these tips to help make car maintenance that little bit easier, leaving you with more free time to enjoy the things you love.
Check and top up your engine oil
Regularly checking your engine oil is at the correct level is important, it takes less than 60 seconds to do, just pop the bonnet of your car, remove the dipstick and check the oil level. It's important to make sure your car is parked on flat ground and the engine is cool, or has been switched off for at least 10 minutes.
Take a look at our step-by-step guide to checking and changing your engine oil here.
Check and top up your tyre pressure
Many of us are probably guilty of not checking this as frequently as we should. Under inflated tyres could increase your fuel consumption by 20%, so make sure your tyres are inflated to the correct pressure. You can find your tyre pressure guide in your car owners' manual, or on a card inside the doorframe, under the bonnet or near your fuel cap. It's also a good idea to make sure your spare tyre pressure is topped up too.
Top up washer fluid
It's important to ensure your washer fluid levels are topped up all year round. Whilst in winter, grit from the road can cause a bit of a messy windscreen when you're driving, during the warmer weather your windscreen can be more prone to pollen and dust from the road being baked on to it. You can buy pre-mixed washer fluid to save time, rather than mixing up concentrate and water.
Clean your vents
Have you ever noticed how much dust gets caught in the air vents of your car? Keep a small paintbrush to hand and run it through the vents once a week to clear the dust from there, it takes a few seconds but helps make your car feel fresh (even if it is full of toys, shoes, coats and cups).
Chalk it up
This sounds ominous, but hear us out. Can you remember the last time you changed all your different fluids in your car? Nope, neither can we, that's why we would recommend using a chalk marker and make a note on all your various reservoirs to make a note of the date you topped them up or changed them. It'll help you keep track of what you may need to restock and when, making car maintenance that little bit easier.
Top tip: At webuyanycar we've made selling your car a quick and simple process, simply enter your reg number and get your free valuation in 60 seconds!